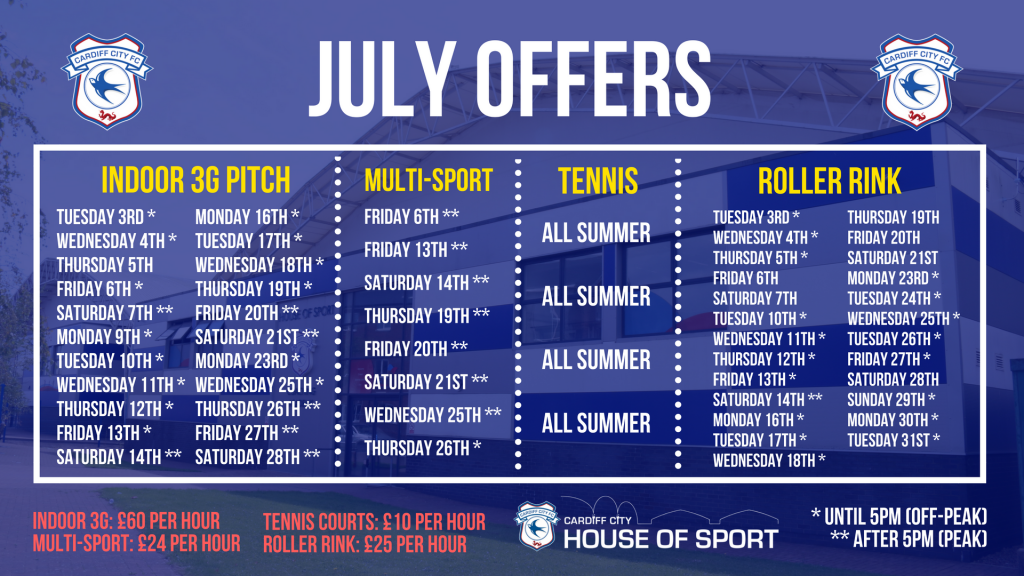 Following our end of June offers, House of Sport will be continuing with a full month of amazing offers for our customers this Summer.
The full list of offers (where applicable) are as followed:
Indoor 3G pitch (House of Sport 1): £60 per hour
Multi-sport courts (House of Sport 2): £24 per hour
Tennis courts (House of Sport 3): £10 per hour
Roller rink (House of Sport 3): £25 per hour
Air Dome 3G pitch (CISC): £55/90 per hour
Outdoor 3G pitch (CISC): £40/60 per hour
Please note, all offers are only assigned to the correct dates as shown in the graphics above.
For all enquiries or bookings, call 02920002555, or email info@cardiffcityhouseofsport.co.uk.
Social media platforms:
Facebook: https://www.facebook.com/HouseofSportCDF/
Twitter: https://twitter.com/HouseofSportCDF
Instagram: https://www.instagram.com/houseofsportcdf